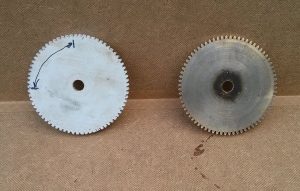 So far we have needed to create several new lantern pinions but no wheels, until now. The next missing part of the going train is a wheel and we have already worked out how many teeth it needs (72 based on a 1.25 second swing of the pendulum). Based on the 72 teeth, and the dimensions of the arch made based on measurements from St. Alkmund's clock, we ended up with a diameter of 4.522 inches. The pitch circle diameter of the 9 pin pinion it engages with is 0.478 inches.
Cutting the wheel should be easy in theory, with a milling machine and a dividing head, although finding the right cutter isn't. These wheels should have epicycloidal teeth of a decent depth, to engage with a lantern pinion, but you just can't seem to get suitable cutters any more. One option would have been to make a fly cutter, but we managed to avoid the need to do that. A test wheel cut with involute teeth and deepened slots seemed to work pretty well so we decided to go with that. The first test was cut in a bit of plastic fascia board, then a section was to be test cut in brass on a blank made from an old engraved sign. Dad got a bit carried away and cut the entire thing and after spending so many hours on it we decided to keep it, despite the remnants of engraved lettering on one side, at least for the time being. After the cut-outs to form the spokes there won't be a lot of the lettering left and a little metal filler, maybe even a touch of brass coloured paint, and the last traces will disappear. If not we can always replace it later, but in the mean time we can move on to the next part.
The dividing head was from my Dad's Myford ML7, but was set up on an unbranded 'Micro Mill' because it gave a better view at the point of cutting.