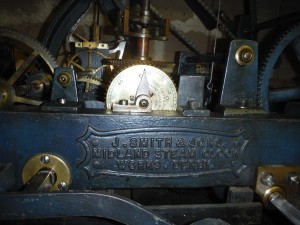 Unfortunately here has been little progress on our clock over the summer as we have been stuck on the escapement. However, we have finally managed to track down a suitable clock for us to model our missing escapement on. The clock is of course a J Smith & Sons, Derby and is of pretty much the same size and design as our own. In the end we didn't have to go far to find it either, about 5 miles from my house is St Alkmund's Church, Duffield. Where, coincidentally (or probably not), I will be getting married next year. I must thank Mike Banks (previous clock keeper), Luke Heaton (tower captain) & James Buchanan (assistant minister) for making this visit possible.
The clock is slightly older than ours at 1897 (vs. 1922), and there are a number of differences, but many of the important details are the same.
Some differences:
The going train is geared differently, unfortunately I can't say exactly what it is because it's very difficult to count teeth on a working clock, up a ladder, without touching it or putting chalk marks on it.
The going train winding arbour passes through the frame rather than being mounted under it (the other two trains are mounted under, as are all three on our clock). This seems to be the norm on these slightly older models.
The larger lantern pinions on our clock are more like regular pinions (but with closed ends) on this clock.
It has a five bell chime, ours has eight (although, unlike us, St Alkmund's actually have the bells to go with it, in fact they have an impressive ten bells in total).
Now we have measurements for lots of details we didn't before, as well as having actually seen one up close (which makes a big difference). We are now in the process of drawing up the missing parts and planning the next steps of our restoration.
Here are some pictures of various parts of the clock we wanted a closer look at.