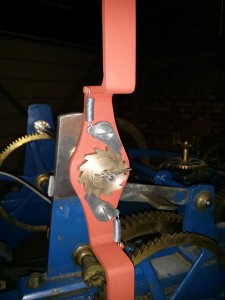 The flies now have arms and are essentially complete. The exact sizes are estimates, based on clocks seen in person and online. It may be that some tweaking of the paddles is needed further down the line to correctly control the striking. We would still like to see more turret clocks in person to make this kind of educated guesswork more accurate.
Due to the position of other components on the outside of the frame the striking fly has a crank in it. The chiming fly only needed a 1/4 inch offset to give sufficient clearance. It is normal for the two flies to be different, they aren't both made cranked just for the sake of matching.
The arms are made from 1/4 inch steel, welded together rather than a single piece (otherwise quite a large, but narrow, plate would have been needed). The blades of the fly are made from approx 0.064 inch thick steel. Pawls have been made to engage with the previously made ratchet, with springs attached to the arms.
The arms have been sprayed in red oxide to prevent corrosion, this is not the intended final colour. We do plan to fully repaint the clock once complete but the final colour hasn't been decided yet. Current thinking is a dark green (in which case probably British Racing Green). We don't know what the original colour would have been, quite possibly the same blue as it came but that's not certain.