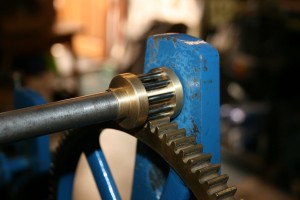 The completion of the flies meant the lantern pinions could be attached to the fly arbours. They are now pinned though the centre section, just like the originals, and the pins have been machined perfectly smooth with the pinion body.
The pins have been cut to length and hardened. Then the brass end cap was attached – a simple tight push fit. The end cap has then been machined to a perfect match with the body and a little bevel put on, which helps to mask any visible line at the join.
Compare the pictures of the two new pinions with one of the originals when I originally discussed their construction. Note the bronze dot just visible between the trundles where it is pinned to the arbour.